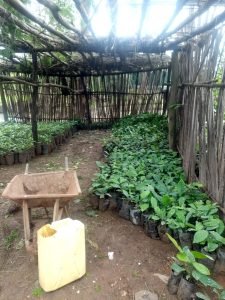 This is a running list of websites built for small serious African NGOs (non-governmental organizations) that Scott's Web Shop built or is assisting with.
These projects have much in common, chief amongst them is the concern with the mitigation of global warming. They are working with youth – most as orphanages – teaching them sustainable farming. They are also members or associated with Team 54 Project:
Team 54 Project International is a US based 501(c)(3) not-for-profit organization, that identifies unique and innovative ways to advocate for SDG13 and to take climate action, towards building climate resilience in the community, with specific focus on existing systems: environment, agriculture, education, economy, health and security.
My hope is with the help of capable volunteers to continue this throughout the developing world.
Websites Built for African NGOs
Planting trees, usually as part of educational events on permaculture in the schools and orphanages:
Repair Earth Projects (REP) was started in April 2016 and mobilizes communities to curb environmental degradation through tree planting.

Our mission is to raise tree seedlings and to plant and protect them in partnership with local communities.

As a Permaculture project, no herbicides or insecticides or artificial fertilizers are used. This is per Certified Organic criteria and standards.

No genetically modified seeds (GMO) are used. The emphasis is on using heritage seeds and food plant varieties where possible. Hybrids may also be used.

We also protect endangered species and ensure that living tree stumps, tree roots and seeds are re-vegetated.
Multiple projects: replacing kerosene lamps with solar lamps, solar cooking instead of woods fires; water filtering; savings and loans.
Pearl Entrepreneurs Academy (PEA), a community-based organization founded and led by Elvis Kadhama.

Elvis is a 26 years-old, environmentally conscious and Mayuge-born college-graduate with a vision derived from his own personal experience.

He wants to help youth and women save and generate income to escape the poverty trap.

"PEA" launched with mobilizing community members into Village Savings and Loans Associations (VSLAs) to help them escape the poverty trap through Savings and internal loans, Renewal Energy products like Solar Lights, improved cookstoves and Water Filters to help them in becoming self-reliant.
Here is a short video Elvis Kadhama created for his project. It is worth taken a few minutes to watch.
The main objective of ZIA is to mobilize local leaders and train them with sustainable new systems of farming. Different approaches and projects have therefore been developed and implemented by ZIA (see 'Projects' page).
ZIA also has a focus on mobilizing women involved in poultry farming, vegetable gardening, small businesses, and village savings.

Furthermore,  ZIA is the founder of a girls' soccer program located in Ndola.
"BCDI Objectives
To train orphans with life going skills in farming and art craft.
To establish a hunger-free community.
To provide health and medical facilities to the orphans and other vulnerable populations.
To connect the community with world

beyond.

To empower youth through sustainable agriculture.
To stop climate change through planting food trees and help in eradication of famine caused by droughts (which came in due to

climate change)."
Websites or Projects In Process
MYSELF UGANDA (MSU) is a Community Based non-government, not-for-profit and nonsectarian, non-partisan Organization working for social development of vulnerable and less developed people. The organization was established in 2014 and is registered with the National NGO board of the Internal Affairs Ministry of Uganda, with registration number WCBO/17/050.
MSU was founded by a group of four young and energetic youth activists and volunteers who were highly motivated and committed to contributing their time, skills and energies for the development and empowerment of socially disadvantaged and vulnerable people especially the youth, children and women.
The youth founders of this organization realized the prevailing needs of their communities and the negligence of several concerned stakeholders. So, they decided to established means of advocacy and capacity building for their people whose lives were getting worse in areas such as education, HIV/AIDS, adolescent sexual reproductive health, environmental degradation and neglect, youth unemployment and redundancy, Gender-Based Violence (GBV) and discrimination, human trafficking, child protection, drug abuse among other societal challenges in both rural and urban areas covering Mukono, Luwero, Kampala and Wakiso District, Uganda.
Ntihemuka S Paulin Community Organizer – involving all ages. In Rwanda.
https://www.facebook.com/ntihemukas.paulin
Net Educational Advancement Initiative Mercy Girls' High School. Nigeria.
Net Educational Advancement Initiative Mercy Girls' High School
"My is Rev. Sister Lilian Chibiko. I am from Imo State Eastern part of Nigeria. I have lived in Sweden for more than 14 years and worked with African immigrants in Sweden. I decided to go back finally in 2016 to help my people. I have been very active in campaign and awareness on climate change. I want to get involved actively because in Nigeria, awareness is still very poor. I use renewable energy as clean energy. I teach production, installation and maintenance of solar energy to encourage people to reduce the use of fossil fuels. I need to be more active locally and internationally." ~ https://www.facebook.com/726229167